Akron Empire
is excited to welcome guest blogger Chris Horne!
Chris is a Southerner by birth and an Akronite by happy accident, raising a lovely little girl here with his amazing wife. For most of the last decade, he's worked as a writer, editor, beat reporter, web producer and news manager, but what he enjoys most is meeting people and telling stories.
Inspired by all the awesome he's experienced in Akron, he's launching The Devil Strip, a guide to what's happening in local arts, music, business and culture. You can check it out at
www.TheDevilStrip.com
, follow on Twitter @akrondevilstrip and like at Facebook.com/thedevilstrip
An Outsider's Guide to Akron, Part 1
by Chris Horne
If you just moved here, congratulations! If you've always lived here, congrats! Anything in between?
Way to go, you! Akron's one helluva town and now is the perfect time to be here.
My wife, daughter and I moved to Akron at the end of July 2013. Coming from the buckle of the Bible Belt, we immediately wondered, "Hey, where's the summer?" A couple months later, we understood it had been prematurely swallowed by the black hole gravity of that approaching winter's polar vortex.
"It's not usually this bad," we heard.
"Akronites are terrible liars," I thought.
Then, after years of middle Georgia's oppressive summer heat and humidity, we rejoiced in the fullness of a mild Akron summer. Ahhhhh, yes.
"It's not usually this nice," we heard.
"Akronites are terrible liars," I'm hoping.
Weather foibles aside, there's much to love here. Most folks we've met get that. Many even carry a little blimp-shaped chip on their shoulder. In that way, Akron feels as much like an eccentric family as it does a city: People who'll bang out their frustrations about the city's shortcomings but wouldn't dream of letting the haters land an insult without reciprocating at double-strength. Family pride and all that.
When you're born inside such a family, it can be hard to step back and really drink in the weird. You're acclimated. As someone who just married into the family (and likes to stretch his metaphors), it's hard for me to ignore just how offbeat Akron can be. For outsiders coming in, make friends with the peculiar and you'll be alright.
Akron is Wellsville
Do you remember the "Adventures of Pete and Pete?" The Nickelodeon show featured brothers who
shared the same name but were years apart in age. They had a personal superhero—Artie, the Strongest Man… in the World!—and lived in a place where anything could happen. In Wellsville, their mom could play songs from the radio thanks to the metal plate in her head. Once, they found a whole car completely submerged in sand at the beach, dug it out and drove it home. The show was riddled with nutty cameos from Iggy Pop and LL Cool J to Steve Buscemi , Janeane Garofalo and Patty Hearst.
Akron is the real-life Wellsville.
You can go view work by Andy Warhol and Chuck Close at the Akron Art Museum, then walk out, look up and see the Goodyear Blimp strolling the skies above town at almost any time of the year. Next head down the hill to the Diamond Grille where, depending on the seasonal event, you might spot someone like Tiger Woods or Michael Strahan. You'd be just a few blocks from St. Vincent-St. Mary, where the greatest NBA player of his generation first drew the world's attention as a teen.
While the West Akron Little League team the Black Keys sponsor is a little further away, you're a stone's throw from Chin's Place, which got a little help from its friends Mr. Auerbach and Mr. Carney when the city government stuck the restaurant with a $20,000 repair. Up a little further in Highland Square, you'll find Platinum Dragon, which best-selling writer Chuck Klosterman says serves the best General Tso's chicken. High praise in a place he claims has "the best Chinese food in North America."
In a big city, this stuff isn't surprising but in the fifth largest city of the seventh largest state, it's a little bonkers. And that's before mentioning Devo, Rita Dove, Chrissie Hynde, Dr. Bob, James Ingram or the other Akronites of international acclaim.
Akron is also Eureka, Oregon.
Maybe it isn't a haven for high-tech scientists toiling away in a top-secret facility, but we do have Tiny Circuits, among others, who are doing super cool stuff. On a wider scale, the Rubber City is transitioning nicely into its role as a world center for polymer research.
That transformation takes several shapes. It's on display at Stan Hywet, the massive museum and gardens that was once the estate of rubber tire magnet F. A. Seiberling, who also donated the land
that's become the Nature Realm. You can see this change in the rebirth of the BF Goodrich factory as
the Canal Place complex. It's evident at the new $160 million global headquarters Goodyear built, as
well as in their gleaming eponymous building on the campus of the University of Akron with its meth-blue rock candy sculpture standing guard outside.
The city's genius didn't stop with rubber scientists (that is, scientists who specialize in rubber, not those made of it). John "the first American to orbit the earth" Glenn's space suit was developed here. The first police car in America was used here—AND, it was electric. That's 104 years before Elon Musk started Tesla Motors. The first mass-produced marble (and the toy industry in general) began in Akron. So did Quaker freakin' Oats, the Professional Bowling Association and female mud wrestling.
The Akron Pros, a charter team in what would become the NFL, won the league's first championship.
The next year, in 1921, they made Fritz Pollard the NFL's first African-American head coach. Paul Robeson played on that team too but would soon leave sports and be known as a singer, actor and civil rights activist.
Why? Because Akron.

Akron is Twin Peaks
It's one thing to find out that, after you've joked about how ain't nobody going to get no Ebola in
America, you find out the second person to get infected in the U.S. isn't just from Akron but came home aboard a commercial flight to visit. And it's an entirely different thing to find out Jeffrey Dahmer lived (and killed) here because the bait-clicky web story you saw about his childhood home being up for sale.
Then there's Edward Edwards, who grew up an orphan in Akron. He became a career criminal then a book-writing reformed criminal, and then a confessed murderer some also consider a suspect in higher profile homicides, like the Zodiac murders.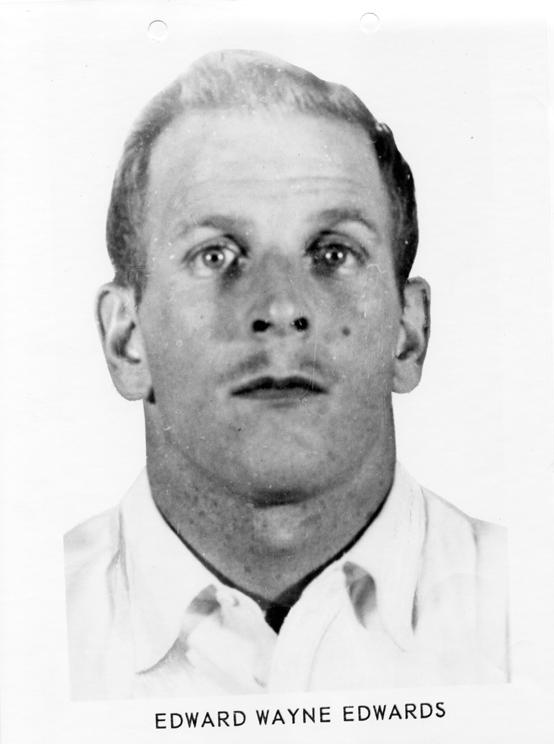 Mugshot of Edward Edwards
This darkness doesn't dominate Akron but it's somewhere in there beneath the rust and decay. Even its suburbs.
Derf Backderf's graphic novel "My Friend Dahmer" is a memoir that's as moving as it is disturbing
because it humanizes the notorious serial killer as much as it points a finger (not the finger) at the adults in Dahmer's life who ignored him. Follow that with Derf's "Punk Rock and Trailer Parks," a fiction set during the wake of Devo's rise as the "Akron Sound" began its boom. The book is as funny and enlightening as "Dahmer" is moving and disturbing.

Though Akron lays claim to lauded thespians like Clark Gable and John Lithgow, actor Ray Wise is a more interesting case because he's so damn good at portraying creeps and bad guys. Yes, Lithgow made season 5 of "Dexter" but Wise has been Satan. Besides, as Leland Palmer in "Twin Peaks," Wise wins hands-down because he's at his most Akron. Smart, kind and driven but also grieving and possessed.

Akron is Akron

The thing about this place, it seems to me, is that there are a bazillion ways to be at one's "most Akron."

While folks to our north use "Only in Cleveland" as a sort of tidy funeral dirge, here the refrain I hear most often is "Sounds like Akron." That's a feeling that lays somewhere between resignation and celebration. Again, like family. It's the way you own the familiar misdeeds of a loved one who has a tendency to act out when he's drinking.

"Chris bought a 12-pack of High Life, drank half of it, hopped the fence in someone's backyard and showed up two hours late at your house with an art easel and some potted fabric flowers? Yeah… sounds like Chris."

Akron is a lot of things, all at the same time. Like a lot of places. But different. Like a lot of places.

However, if there's anything I'm confident about, it's that you'll never have to mount a "Keep Akron Weird" campaign because I don't think the city knows any other way to be.